More Than a Score™
Real-Time and Accurate Risk Intelligence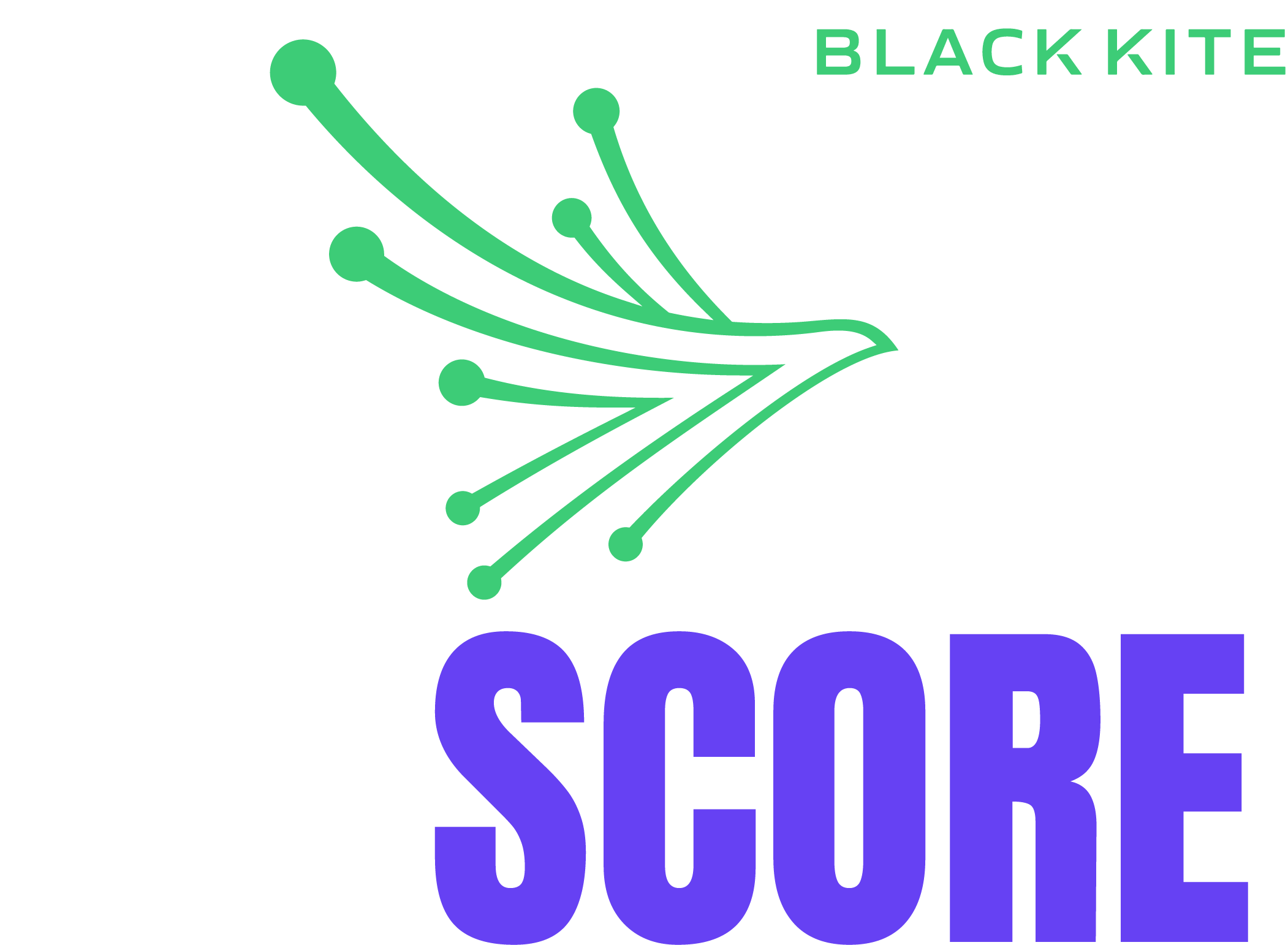 Black Kite's deep insights into third-party cyber risk ease the stress of the unknown in your cyber ecosystem by automating the process of providing real- time and accurate risk intelligence.
With Black Kite, you get more than a simple risk score. You get instant access to reliable qualitative data so you can make informed decisions while continuously monitoring more vendors, partners, and suppliers in an ever-changing cyber ecosystem.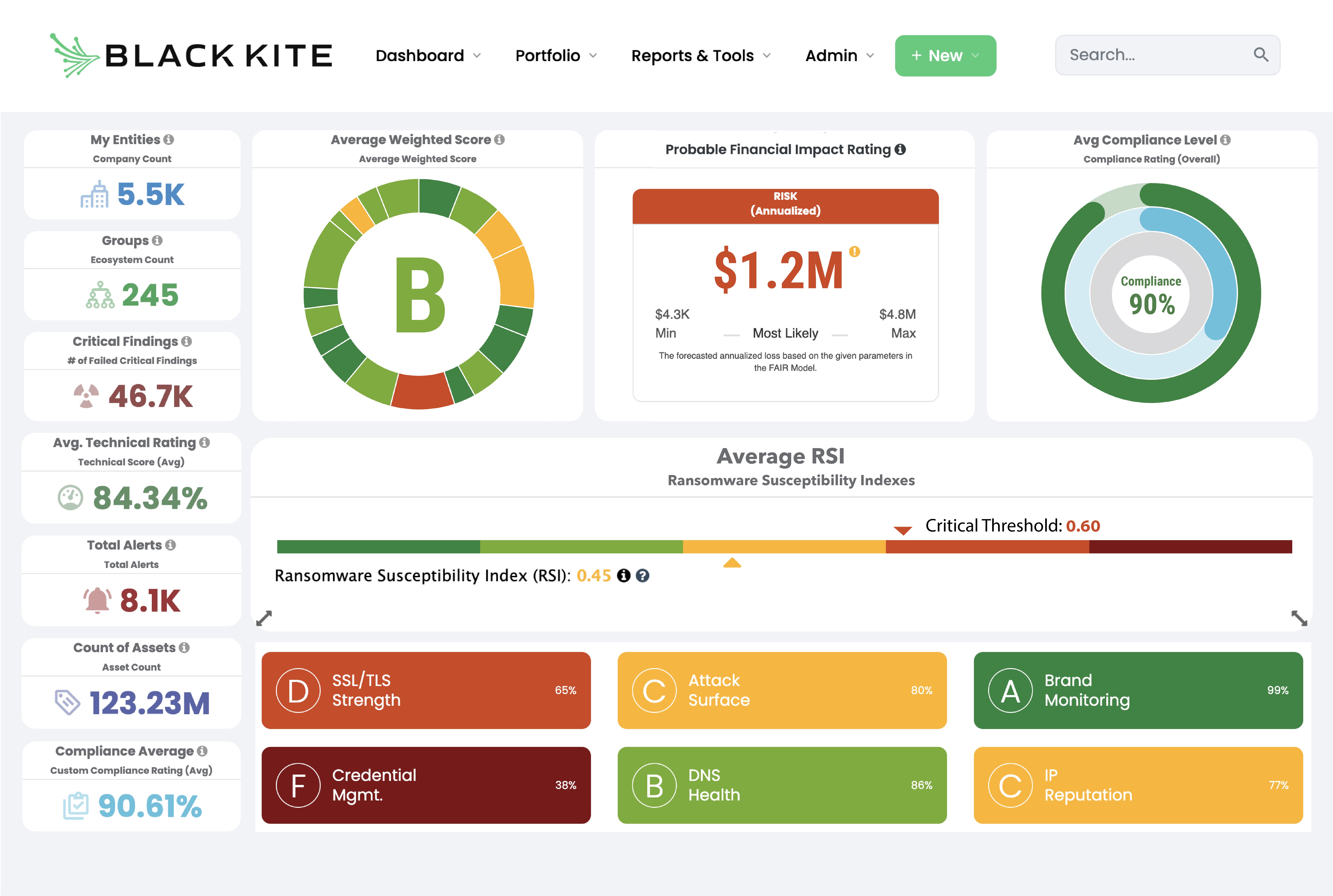 Evaluate your vendor risk today
Simple cyber ratings are ineffective and static. We want to show you the Black Kite difference.
How Does Black Kite Offer More?
360° Degree View of Cyber Risk
Providing intelligence from a technical, financial and compliance perspective, Black Kite eliminates false positives and ensures a holistic approach to vendor risk management.
The Highest Quality Data
Black Kite engineers the largest data lake in the world, providing you with visibility into over 34 million companies and counting, with 20+ risk categories and 290 controls – 3x the competition. Our data is cross-verified, and continuously updated.
Innovation Is in Our Blood
Black Kite innovates with purpose, meeting the demands of the ever-changing cyber landscape. New features, such as Black Kite's FocusTags™, identify vendors within an ecosystem that have experienced a recent high-profile cyber event.
Standards-Based Findings Only
Data is key at Black Kite. Our data is vast, open-source, and trustworthy, producing cyber ratings mapped to industry standards. We ensure all users know exactly how their findings are calculated.
Proactively Fight Against Ransomware
The only cyber rating platform with a tool to detect the likelihood of a ransomware attack to your organization. The Ransomware Susceptibility Index™ utilizes data analysis techniques and common indicators, including a third party's location, industry, and annual revenue.
Unmatched Scalability
Scalability is as simple as adding one company or 1,000 companies to your ecosystem. As your digital supply chain changes and evolves, the Black Kite platform allows you to pivot, grow, and identify critical vendors around the clock.

As you learn more about the Black Kite platform, you will find that Black Kite holds the biggest cyber database on the planet, continuously collecting data on over 34 million companies with over 300 data sources on the web and dark web.
This data lake architecture, which is based on MITRE and NIST standards, leads to the most accurate, transparent scoring in the industry.
Black Kite Competitive Comparison
Unavailable

Partial

Available

Extensive
Black Kite

BitSight

SecurityScorecard

RiskRecon

UpGuard

Number of controls

Deduplicated in comprehensive scan

290
40
105
80
50
Seamless Integration

RSA Archer, Splunk, OneTrust, Service Now

Ease of use
API capabilities
Digital footprint discovery
Grading methodology
Standards-based
Proprietary and Non-standard
Proprietary and Non-standard
Proprietary and Non-standard
Proprietary and Non-standard
Knowledge base

Understand the Data

Continuous monitoring cost

Per vendor

$$$
$$$$$
$$$$
$$$$$
$$
Workflow automation
Time to add new vendor
Instant
Days*
Days*
Days*
Days*
RSI™

Ransomware Susceptibility Index®

Custom questionnaire mapping
Universal Questionnaire and Policy Processor
Benchmark and reporting
Standards-based
Proprietary and Non-standard
Proprietary and Non-standard
Proprietary and Non-standard
Proprietary and Non-standard
Custom dashboards
Risk Quantification

For Vendor Risk Analysis

Licensing flexibility
Shared responsibility

Edit mode

Estimated compliance report
Strategy report
Instant result

For any company

3rd/nth party auto discovery
Subsidiary scan option

Subdomain scan

Compliance crosscorrelation
SIG integration

Shared Assessments' SIG

Remote workforce monitoring